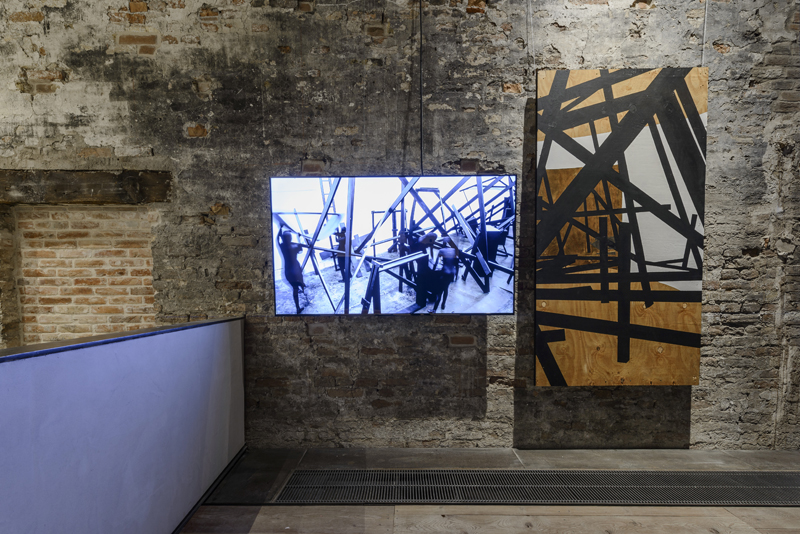 Black Subjects
Single-channel digital video
6 min 56 sec
Edition of 6
Courtesy Stevenson, Cape Town and Johannesburg
Black Subjects III: '… and walk in my shoes'
2011
Paint on wood
220 x 116 cm
Courtesy Emile Stipp Collection
In his exploration of formal and philosophical 'blackness', Nitegeka follows a lineage of art movements that have placed black at the centre of their rationales (Russian Constructivism, Minimalism and Abstract Expressionism), and of artists who worked from within a basic ground of blackness: Malevich whose blacks are 'generative', Rothko whose blacks 'pulsate', Reinhardt who shows 'degrees' of black. The colour black, says Nitegeka, is notoriously unrevealing and uncompromising. It is the colour of the origin of painting—and our own origin. He describes the French expression, that the newborn baby 'sees the day', which means that before the day, we were in the dark. This is to suggest that we come from the dark, that, really, we don't know where we come from and we don't know where we are headed. All we know of blackness is its presence. As we return to ashes, as we return to dust, so we return to black.
Serge Alain Nitegeka was born in Burundi in 1983. He lives and works in Johannesburg. His work, mainly in sculpture and painting, frequently explores black subjectivity and experience not only in relation to history and politics, but also within the framework of art-historical notions of form and colour. In particular, his asymmetrical wooden sculptures engage the body in space and time, considering the relationships between movement and stasis.
Nitegeka won the Tollman Award for the Visual Arts in 2010 and in the same year was selected for the Dakar Biennale, where he won a Fondation Jean Paul Blachère Prize. He has held solo exhibitions at Stevenson, Cape Town and Johannesburg (2009, 2012, 2013) as well as at Le Manège Gallery, French Institute, Dakar (2012). Recent group exhibitions include This House, part of Nouvelles vagues at Palais de Tokyo, Paris (2013); My Joburg at La Maison Rouge, Paris and the Staatliche Kunstsammlungen, Dresden (2013); and The Space Between Us at ifa Galleries, Berlin (2013). In 2014 Nitegeka held his first US solo show at Marianne Boesky Gallery, New York and he is participating in the group exhibition Venturing Out of the Heart of Darkness, at the Harvey B. Gantt Center for African-American Arts and Culture, Charlotte, NC in 2015. His first US museum exhibition, Configurations in Black, is currently at the SCAD Museum of Art, Savannah, GA.