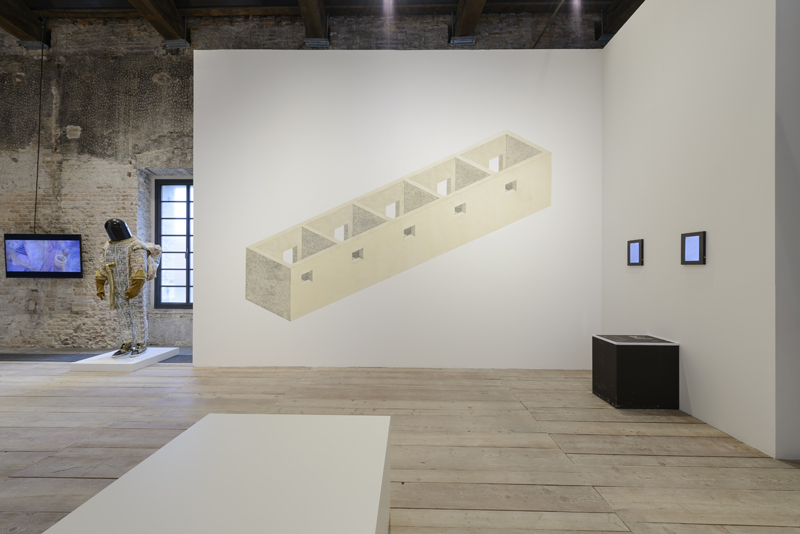 Compound
Wall drawing in pencil and varnish
200 x 350 cm
Courtesy the artist
This work responds to the memory of dwellings for farm workers on my family's farm in South Africa. These now abandoned buildings bear the traces and evidence of their former use and occupancy. Their quiet but insistent presence has provoked a number of works in sculpture, drawing and photography, which reflect on themes of possession and dispossession, of removal and loss, of security and vulnerability and the ways in which these are played out on the intimate scale of personal experience and feeling as much as on the larger stage of the political.
Jeremy Wafer is an artist and professor of fine art at the University of the Witwatersrand, Johannesburg. He received degrees in fine arts and history of art from the University of KwaZulu-Natal (Pietermaritzburg) and the University of the Witwatersrand. His work engages with the politics and poetics of space and place and with mapping the social, cultural and political geography of South Africa. His gallery and site-specific works in sculpture, photography and drawing have been exhibited in South Africa and internationally. He is the winner of a number of awards, including the Sasol Wax Art Award (2007), and he has had fellowships at the Civitella Ranieri, Italy, the Thami Mnyele Foundation, Amsterdam, the Ampersand Foundation, New York and with the South Project in Melbourne in 2005. He has completed public commissions for the Gugu Dlamini Park, Durban, and the International Convention Centre, Durban, amongst others. He was Visiting Artist at Monash University, Melbourne in 2012. His work is represented in the National Museum of African Art, Smithsonian Institution, Washington, DC, Iziko South African National Gallery, the Johannesburg Art Gallery and many other museum, private and corporate collections. A major retrospective show, Survey, was exhibited at the Wits Art Museum, Johannesburg in 2013, and a solo show, Strata, at Goodman Gallery, Johannesburg in 2014.