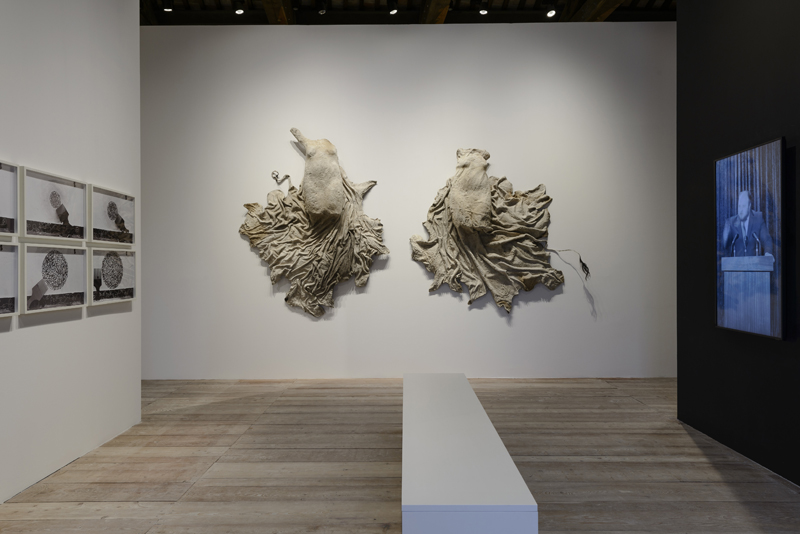 Conversation: The Beginning of Forever
Cowhide, resin, polyester mesh
Left: 223 x 183 x 27 cm, right: 215 x 193 x 25 cm
Courtesy Stevenson, Cape Town and Johannesburg, and Andréhn-Schiptjenko, Stockholm
Mntambo's work has always given expression to an interest in the embodied aspect of experience and the ways in which collective imagery may be housed within individual physicalities. Her cowhide-and-resin sculptures carry the traces of the artist's process of moulding, cutting and shaping of hide. Each skin reveals the physical rituals undertaken to bring these forms to life. The cowhide acts as a rigid container, protecting a lacuna—a hollow space that is not, however, empty. In this work, the two parts of the sculpture face each other in an imagined life-after-death dialogue.
Nandipha Mntambo was born in Swaziland in 1982. She graduated with an MFA (cum laude) from the Michaelis School of Fine Art, University of Cape Town, in 2007. Mntambo's work, in several media, often explores oppositions as a way of demonstrating that meaning is made from a variety of perspectives. She is invested in the forms that the body takes and the spaces it occupies in relation to history and place.
She won the Standard Bank Young Artist Award for Visual Art in 2011, for which she produced the national travelling exhibition, Faena. She was a 2014 AIMIA/AGO Photography Prize finalist and was part of the prize group exhibition at the Art Gallery of Ontario, Canada. Mntambo has had five solo shows at Stevenson Cape, Town and Johannesburg, and a solo exhibition of her art launched the Zeitz MOCAA Pavilion, Cape Town (2014). Her first European solo exhibition took place at Andréhn-Schiptjenko, Stockholm (2013), where she will have a second solo in 2015. Her work is included in The Divine Comedy: Heaven, Purgatory and Hell Revisited by Contemporary African Artists, a touring exhibition that is next on show at the National Museum of African Art, Smithsonian Institution, Washington, DC (8 April – 2 August 2015). She has participated in the Borås International Sculpture Biennale, Sweden (2014); My Joburg at La Maison Rouge, Paris; the Moscow International Biennale for Young Art (2012); ARS 11, Kiasma Museum of Contemporary Art and Tennis Palace Art Museum, Helsinki (2010, 2011); the Biennale of Sydney (2010); the Dakar Biennale (2010); Peekaboo: Current South Africa, Tennis Palace Art Museum, Helsinki (2010); Life Less Ordinary: Performance and Display in South African Art, Djanogly Gallery, Nottingham (2009); Les Rencontres de Bamako Biennale of African photography, Bamako (2009); Beauty and Pleasure in South African Contemporary Art, Stenersen Museum, Oslo (2009); ZA: Young Art from South Africa, Palazzo delle Papesse, Siena (2008); and Apartheid: The South African Mirror, Centre de Cultura Contemporània de Barcelona (2008). Mntambo was a Civitella Ranieri Fellow in 2013.