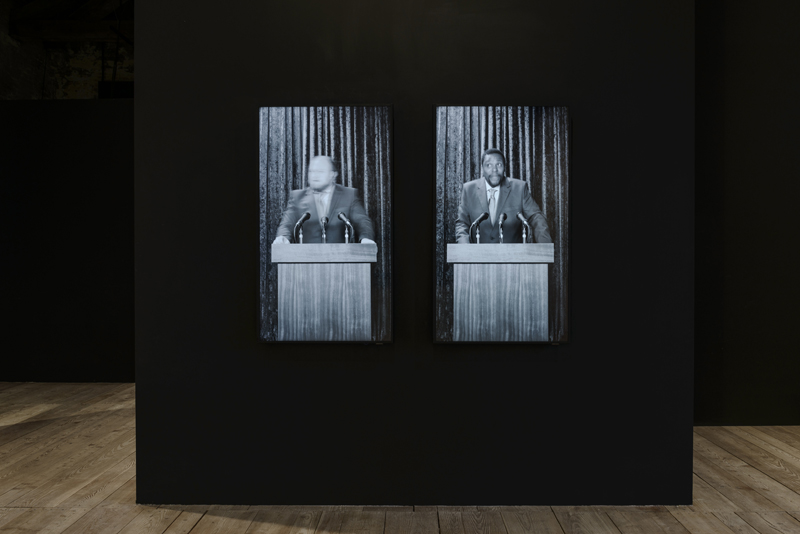 Triumph
Dual-channel digital video installation
6 min 48 sec
Editor/director: Gavin Elder
Sound: Warrick Sony
Production: Monkey Films
Sound studio: Milestone Studios
Edition of 3
Courtesy Goodman Gallery
Leni Riefenstahl's fascist propaganda film Triumph of the Will (Triumph des Willens, 1935) shows Hitler's infamous 1934 Nuremberg Rally speech. This terrifying and compelling oration appears to be an echo still reverberating through current sites of conflict in many countries. Religious, territorial, cultural, ethnic and racial battles across the world are incited, propagandised and perpetuated by means of the same powerful myth in which the protagonists chant, 'We are the chosen people!'
The mirrored videos of Murray's work Triumph are a reminder of what we have come through, but also serve as a warning of the demagoguery that South Africans may face in the future (and as an ironic manifestation of some of what underpins the current wave of xenophobia sweeping across thecountry).
Brett Murray studied fine art at the University of Cape Town. From 1991 to 1994 he established the sculpture department at the University of Stellenbosch, where he curated the show Thirty Sculptors from the Western Cape in 1992. In 1995 he curated Scurvy, with Kevin Brand, at the Castle of Good Hope, Cape Town. That year he co-curated Junge Kunst aus Zud Afrika for the Hänel Gallery, Frankfurt. In 1999, he co-founded—with artists and cultural practitioners Lisa Brice, Kevin Brand, Bruce Gordon, Andrew Putter, Sue Williamson, Robert Weinek and Lizza Littlewort—Public Eye, a section 27 company that manages and initiates public art projects in Cape Town. Public Eye has initiated projects on Robben Island, worked with city health officials on AIDS awareness campaigns and initiated outdoor sculpture projects including the Spier Sculpture Biennale. Murray curated Homeport in 2001 in which fifteen artists created site-specific, text-based works in Cape Town's waterfront precinct.
Murray was included on the Cuban Biennale of 1994, and his work has been exhibited at Museum Ludwig, Cologne. He was included in Springtime in Chile at the Museum of Contemporary Art, Santiago (1995) and was part of the travelling show Liberated Voices: Contemporary Art From South Africa, which opened at the Museum for African Art, New York in 1998; Min(d)fields at the Kunsthaus Baselland, Basel 2004; and The Geopolitics of Animation at the Centro Andaluz de Arte Contemporáneo, Seville in 2007. He won the Cape Town Urban Art Competition in 1998, which resulted in Africa, a 3.5-metre bronze sculpture for Cape Town's city centre. He won, with Stefaans Samcuia, the commission to produce an 8 x 30-metre wall sculpture for the foyer of the Cape Town International Convention Centre in 2003. In 2007 he completed Specimens, a wall sculpture for the University of Cape Town's medical school campus. In 2011 he produced Seeds for the University of the Free State and in 2013 he was commissioned to produce the 7-metre bronze Citizen for Auto & General Park, Johannesburg. His solo shows include White Boy Sings the Blues at the Rembrandt Gallery, Johannesburg (1996); I love Africa at Bell-Roberts Gallery, Cape Town (2000); Us and Them at the Axis Gallery, New York (2003); and Sleep Sleep at Goodman Gallery, Johannesburg (2006). His recent show, Hail to the Thief, was at Goodman Gallery, Cape Town in 2010 and Goodman Gallery, Johannesburg in 2012.