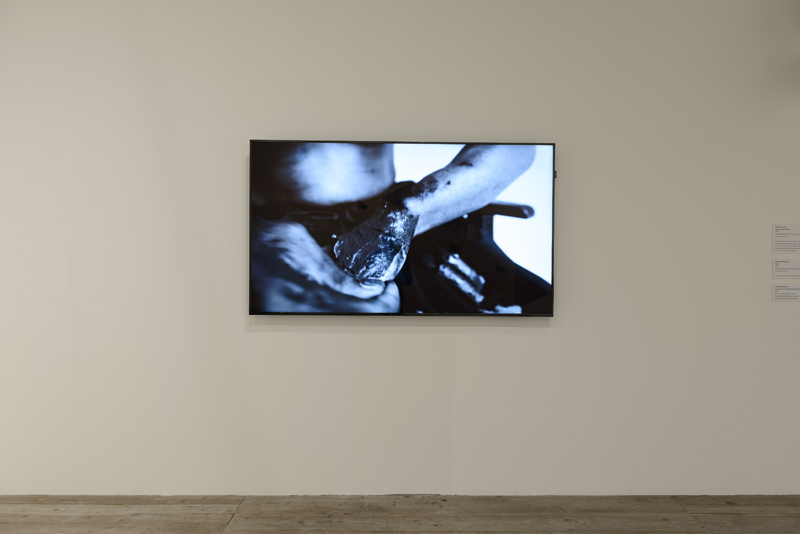 Inzilo
Single-channel video
4 min 57 sec
Edition of 10
Courtesy Brundyn+
Inzilo is an isiZulu word meaning 'mourning' or 'fasting'. As in many of his films and images, Modisakeng's body occupies centre stage in this work. He enacts a mourning ritual by sitting, standing, and rotating slightly, all the while throwing a burnt, ashy substance into the air. Extreme close-ups of his body begin to suggest the shedding of a skin, as though the ash is falling from his limbs as the ritual proceeds. He performs an elaborate rite of passage in which the initiate seems to draw the material for his transition from within his own body. In the absolute purity and focus of the moment, Modisakeng is turned inwards but gesturing outward, undergoing a mysterious transformation that is at once a private ceremony and a public declaration.
Mohau Modisakeng was born in Soweto in 1986 and lives and works between Johannesburg and Cape Town. He completed his undergraduate degree at the Michaelis School of Fine Art, Cape Town in 2009 and worked towards his Master's degree at the same institution. His work engages race, the militarisation of society and the deep divides of post-apartheid South Africa and the post-colonial continent. He interrogates the collective narratives that inform our experience of the world, in particular those that evoke the black body as a site of fragmentation and distortion.
Modisakeng was awarded the Sasol New Signatures Award for 2011. He has exhibited at VOLTA NY, New York (2014); the Saatchi Gallery, London (2012); Dak'Art Biennale, Dakar (2012); Focus 11, Basel (2011); and Stevenson, Cape Town (2010). In 2013 he produced an ambitious new video work in association with Samsung as a special project for the 2013 FNB Joburg Art Fair. His work is included in public collections such as the Johannesburg Art Gallery, Iziko South African National Gallery, Cape Town and the Saatchi Gallery, London as well as in significant private collections such as Zeitz MOCAA.