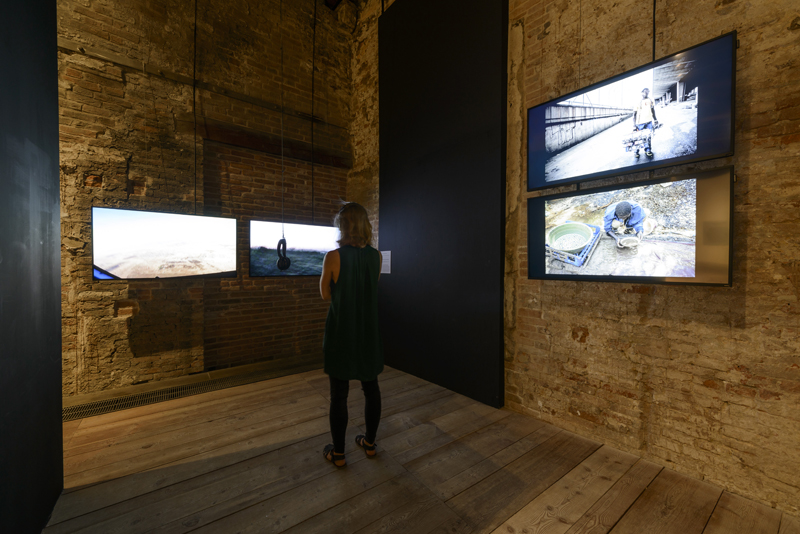 Wake Up, This is Joburg
2014
Video from still photographs
Courtesy the artist
Taxi Drivers
In the shadow of a motorway underpass at the southern edge of inner-city Johannesburg is the Zola binding point, a zone where 600 minibus taxi drivers wait with their vehicles between the morning and evening rush hours. In this unlikely place, a network of traders and service providers has sprung up to cater to the needs of the drivers. Food vendors, mechanics, barbers, taxi washers, candy sellers and hawkers pass through the zone daily, making a meagre but steady living from one of the most important and least regulated industries in thecity.
Waste Reclaimers
There are many survivalists in Johannesburg whose labour forms part of a complex informal economy. Of these, few toil harder than the reclaimers: men and (some) women who drag makeshift trolleys across the city in search of recyclable material. Long before sunrise each day, they head to the affluent suburbs to sort through household waste awaiting collection on sidewalks. Then they haul their giant loads of paper, plastic and glass many miles to the city's trash depots where they are paid by the kilogram. The recyclers earn better than most in the informal sector, but the work is brutally hard and exacts a high price from these men and women who live on the precarious edges of society.
Cow Heads
In the bowels of an obsolete inner-city parking garage, men stand around huge chopping blocks wielding axes with which they strip every shred of flesh from hundreds of cow heads. The loosened meat is transported to the taxi ranks and informal markets of the city where it is cooked on open braziers and sold to the passing trade as s'kop. The skins, peeled off the heads and then singed and scorched on blazing fires, are used in the dish known as kwassa kwassa, favoured by West Africans, and the bones and teeth are sent off to ceramics factories. The butchers form part of a vital but largely undocumented network of informal food trade inJohannesburg.
Illegal Miners
'There is enough gold for all of us,' says Philip Pelembe, an informal miner who digs for gold on a mine dump at the city's edge. Like the other zama zamas (illegal miners) who work the dumps and abandoned shafts along the reef, his reward after many days might be a pellet of gold dust and mercury. In the shafts, rock is chiselled out by hand and carried to the surface to be pulverised, mixed with mercury and refined with a blowtorch. This dangerous work is often undertaken by illegal migrants from neighbouring countries. They descend hundreds of metres into the unstable tunnels, and upon emerging, sometimes after days underground, are targeted by gangs who rob them or force them back to the shafts. Rescue by police means arrest or deportation. These men eke out a living in perilous conditions from which some do not make it out alive.
Mark Lewis is based in Johannesburg. He started photographing professionally in the early eighties in London, where he worked as a fashion photographer, publishing work in Face, Vogue and Interview magazines, amongst others. More recently he has worked in documentary, with a specific focus on the African continent, freelancing for German and other European publications. He has photographed workers in Swaziland, the city of Mogadishu and ship breakers in Bangladesh He is currently working with writer Tanya Zack on a ten book series of Johannesburg stories called Wake Up, This is Joburg, published by Fourthwall Books. His work has been widely published and exhibited. Recent solo exhibitions include Wake Up, This is Joburg, Fourthwall Books, Johannesburg (2014 and 2015), and The Grande Hotel Beira, Gallery MOMO, Johannesburg (2013).
These photographs are part of the ten book series, Wake Up, This is Joburg by Mark Lewis and Tanya Zack. Published by Fourthwall Books, Johannesburg