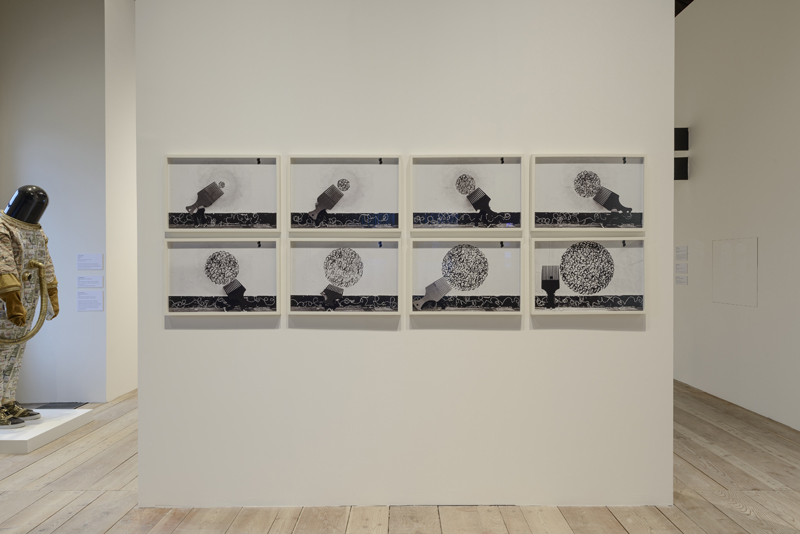 Blackness Blooms
C-prints
Each 41.6 x 61.6 x 3.8 cm
Courtesy Stevenson, Cape Town and Johannesburg, and Lehmann Maupin, New York
Rhode's work, which incorporates film, photography, drawing and performance, frequently incorporates a gritty urban wall or sidewalk upon which the artist unfolds a story or image. The finished work is a dynamic representation—a human flipbook—of his bodily encounters with urban space, his street-level meditations on the world.
Blackness Blooms takes its title from a poem by the South African poet Don Mattera, a founding member of the Black Consciousness Movement and a member of the ANC Youth League. Mattera's political activism led to a banning order, imprisonment and torture under the apartheid regime. Rhode was struck by Mattera's imagery of incarceration: of darkness liquefied, of blackness as a terrible wound inflicted by others. As so often in his work, Rhode explores the many possibilities that an image presents to him, opening it out first as a series of lines or loops that extend from his own body, and then into a rapid-fire succession of figures in movement. Here, he takes Mattera's dark imagery and, using a giant Afro comb, explodes it into a blossoming hairdo, a gorgeous celebration of blackness.
Robin Rhode was born in 1976 in Cape Town, and lives in Berlin. He completed postgraduate studies at the South African School of Film, Television and Dramatic Arts, Johannesburg, in 2000. Rhode's dynamic, often playful, picaresque narratives, executed with everyday materials such as soap, charcoal, chalk and paint, are brought to life through stop-motion animation. In addition to the street art and performance aspects of his work, there is always a formalist foundation inspired by his interest in abstraction in general and Russian constructivism in particular.
Rhode has had solo exhibitions at Kunstmuseum Luzern (2014); National Gallery of Victoria, Melbourne (2014); Tucci Russo Studio Per L'Arte Contemporanea, Turin, Italy; the Los Angeles County Museum of Art (2010); the Wexner Center for the Arts, Columbus (2009); the Hayward Gallery, London (2008); and Haus der Kunst, Munich (2007); Rose Art Museum, Brandeis University, Waltham, MA (2004); and Iziko South African National Gallery, Cape Town. He has been included in the Sydney Biennale (2012); Staging Action: Performance in Photography Since 1960, Museum of Modern Art, New York (2011); The Dissolve, Site Santa Fe Biennale (2010); Prospect.1 New Orleans, 1st New Orleans Biennale (2008); New Photography, Museum of Modern Art, New York (2005); the Venice Biennale (2005); and How Latitudes Become Forms at the Walker Art Center, Minneapolis, and other venues (2003–5). In 2014 he won the Roy R Neuberger Exhibition Prize, which led to an early-career survey and catalogue. Robin Rhode: Animating the Everyday, a ten-year survey of his work, was on view at the Neuberger Museum of Art, Purchase College, State University of New York, in 2014.