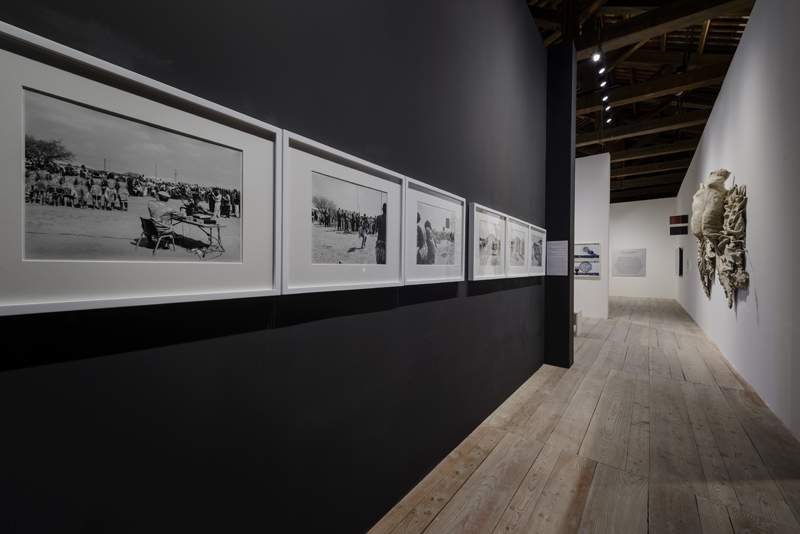 The Borderlands
31/201 Battalion Commemoration Service, Platfontein (triptych), 2012
Decommissioned Military Outpost, Schmidtsdrift (triptych), 2012
The Second Slaughter, Riemvasmaak (triptych), 2013
Hand-printed silver gelatin prints
Three panels: Decommissioned… 45 x 56 cm, 31/201 Battalion… and The Second Slaughter… each 36 x 45 cm
Courtesy Stevenson, Cape Town and Johannesburg
Since 2007 my photography has focused on the aftermath of a set of conflicts that converged in Angola in the late twentieth century, and which South Africa was intricately involved in. Alongside Angola's civil war (1975–2002), Namibia's war of liberation (1966–1989) moved across the border into Angola. Known to white South Africans as The Border War, the liberation struggle was fought to gain independence from South African rule.
Following two earlier bodies of work, The Borderlands explores the repercussions of South Africa's involvement in the conflict within its own borders. The towns of Pomfret, Schmidtsdrift and Riemvasmaak in the Northern Cape were occupied by the South African Defence Force (SADF) during and after the war, but they also share previous histories of violence and dispossession. The 1913 Natives Land Act regulated, controlled and restricted the movement of South Africans classified as 'non-white', determining where they could live and work. Mass forced removals followed (1960s–1980s), robbing most South Africans of their land, communities, traditions and cultural identities.
After the removals, Riemvasmaak was used for weapons testing and training. Pomfret (a former asbestos mine) and Schmidtsdrift were designated for the accommodation of Angolan and Namibian soldiers who had been recruited into the SADF, fighting against their countrymen in Namibia and Angola. After the war, facing possible reprisals from their governments, these soldiers and their families were relocated to South Africa. Land restitution policy since 1994 has restored Riemvasmaak and Schmidtsdrift to the original inhabitants, but their return has raised complex issues about land, home and belonging. For the Angolan and Namibian veterans who find themselves in a new set of conflicts with local communities and the state, life remains precarious.
Jo Ractliffe's photographs reflect her ongoing preoccupation with the South African landscape and the ways in which it figures in the country's imaginary. Since 2007 her work has focused on the aftermath of the war in Angola, a conflict that South Africa was intricately involved in. Following Terreno Ocupado (2008) and As Terras do Fim do Mundo (2010), her work The Borderlands (2013), looks at spaces within South Africa that were caught up in the mobilisation and aftermath of that war, but also share more complex histories of violence and dispossession during the colonial and apartheid eras.
Ractliffe teaches at the University of the Witwatersrand, Johannesburg where she works with Rory Bester on PhotoFocus, a pedagogy platform for engaging photography across disciplines, histories and experiences. She conducts lectures, workshops and short courses at other institutions in South Africa and abroad, and has initiated a number of independent public and educational projects. In 2010 she was awarded a writing fellowship at the Wits Institute for Social and Economic Research (WISER). In 2011/12 she taught at the Salzburg Summer Academy, and in 2013/4 was a research fellow at the Centre for Curating the Archive at the University of Cape Town. Her book, As Terras do Fim do Mundo, was listed as one of the Best Photobooks 2010 at the International Photobook Festival, Kassel.
Ractliffe's recent solo exhibitions are After War, Fondation A Stichting, Brussels (2015); Someone Else's Country, Peabody Essex Museum, Salem (2014); and The Borderlands, Stevenson, Cape Town (2013). She was included in Time Conflict, Photography, Tate Modern, London (2014); Apartheid and After, Huis Marseille, Amsterdam (2014); Transition: Social Landscape, Recontres d'Arles (2013); Present Tense, Fundação Calouste Gulbenkian, Lisbon (2013); Distance and Desire: Encounters with the African Archive, Walther Collection, Ulm (2013); My Joburg, La Maison Rouge, Paris (2013); Unstable Territory: Borders and Identity in Contemporary Art, Centro di Cultura Contemporanea Strozzina, Venice (2013); Making History, Museum für Moderne Kunst, Frankfurt (2012); Rise and Fall of Apartheid: Photography and the Bureaucracy of Everyday Life, International Center of Photography, New York (2012) and Museum Africa, Johannesburg (2014–15); Topographies de la Guerre, Le Bal, Paris (2011); Appropriated Landscapes, Walther Collection, Neu-Ulm/Burlafingen (2011); and Figures and Fictions: Contemporary South African Photography, V&A Museum, London (2011).